Our Team
Operations of The Salvation Army are supervised by trained, commissioned officers. They proclaim the gospel and serve as administrators, teachers, social workers, counselors, youth leaders, and musicians. These men and women have dedicated their lives, skills, and service completely to God.
---
Major Harry Dwier
Hello, I am Major Harry Dwier, I grew up in South Jersey. Which is not like the New Jersey you see on TV; it is more country than city. I am co-pastor along with my wife Madelaine at The Salvation Army here in Wooster. Prior to my life with The Salvation Army, I was in the restaurant business for 20 years. I do not have a favorite thing about my job, but, if I had to pick one thing. It would be seeing someone that everyone thinks has no chance of succeeding; succeed. The most important things in my life are my family and my integrity. I am honest when it doesn't pay to be honest, some people don't like that, but it is important to me. I have a wonderful family. My wife Madelaine and I minister together at The Salvation Army, and our children, Nathan, who is 8 and Eden, who is 6, are a part of that ministry as well. I am very blessed. Due to my new handicap, many of my old hobbies are not possible, so I am still learning new ones.
---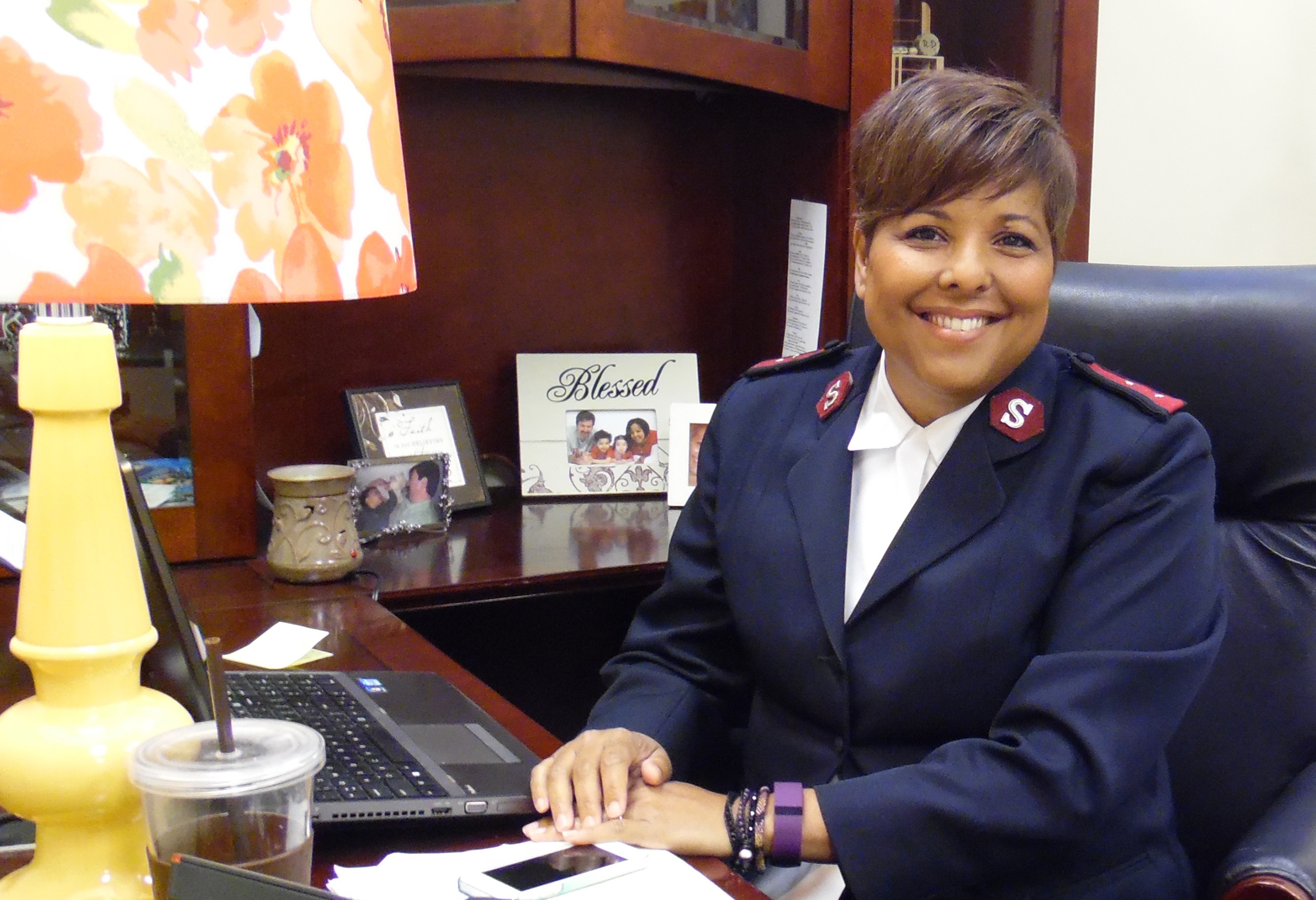 Major Madelaine Dwier
Hello, I am Major Madelaine Dwier. I am originally from the Dominican Republic, the most enchanting of the Caribbean Islands, where is summer all year 'round! But although I have moved a lot, the place I call home is Ohio where our family has lived for the last five years, the last two in beautiful Wayne County. As a Salvation Army Corps Commanding Officer I oversee all the operations of the Wooster Corps including the shelter, the social service, the family life and more importantly the worship center. I am passionate about our community. Everything I do at The Salvation Army has to pass the question "what long lasting effect will it have in our community?" We were made by God for community living and as such we have a responsibility to provide for the poor, to protect the disadvantaged, to advocate for the fatherless, to comfort the lonely…to care for our community, that is my passion. I serve alongside my husband Harry and our two children Nathan and Eden. In my spare time I enjoy exercising (Spinning and Zumba are my favorite) I also like shopping for bargains and trying new foods.
---
Susan Kytta
Hello, my name is Susan Kytta. I was born and raised in Lodi, Ohio. I moved to Rapid City,South Dakota with my husband in 1996 and lived there for 15 years. We moved back to Ohio 3 years ago and make our home in Doylestown. I work as the Youth Center Director for the Salvation Army and I truly enjoy this job. Previously I worked as a child care counselor at Black Hills Children's Home in Rockerville,SD. This was residential treatment for children with severe behavior disorders. I am passionate about helping families and encouraging moms and dads in their roles. I love to see children develop through our afterschool and summer day camp programs. Many times we are privileged to watch them grow spritually, emotionally, and academically as well as physically. One of my most rewarding moments is when a child is able to understand a spiritual truth, or gain some new understanding of his peers. Those are the days I live for. I have a terrific husband named Eric and an awesome 8 year old son, named Gabe. My hobbies include reading, sewing and hiking with my family.
---
Becky Wagner
Hello, my name is Becky Wagner. I am the Shelter Director in the Emergency Shelter. Prior to becoming employed by The Salvation Army, I was employed by Wayne County for 30 years until my retirement in 2010. The thing I enjoy most about my position is being able to serve people. I hope they learn as much from me as I learn from them. My husband and I live in Wooster and we have been married for 37 years. My hobbies are spending time with family, our two dogs, making jewelry, and reading. There is nowhere else I would rather be then where I am right now.
---
Brenda Drouhard
Hello, I am Brenda Drouhard. I am originally from Orrville but have lived in Wooster with my husband for 31 years. I have two children, a daughter who lives in North Carolina and a son who lives in Wooster. I have worked for The Salvation Army for seven years and I am the Administrative Assistant/Social Services. I assist the Corps Officers with the daily operations of the Corps and help individuals and families who are in financial crisis. I really love everything about my job. I am always doing something different every day; from helping people, to doing many tasks for the Corps. I like diversity and challenges in my daily routine. I am passionate about the people that I work with in crisis. I am not always able to help every person that comes through my door but I always make sure that I give them options for success. Sometimes it is just a matter of taking the time to listen to their situation. My job is very rewarding when someone says "thank you" for taking the time with me. When I am not working I like to read and bake. I enjoy taking walks and spending time with my family.